Our Curriculum
---
Intent
At Meadow Primary School, we are committed to providing a curriculum which is broad and balanced, and provides our pupils with opportunities to gain essential knowledge, skills and understanding. We intend that all children should enjoy their learning, achieve their potential and become independent life-long learners. We will aim high, striving for every child to achieve more than they thought possible. Our curriculum will nurture curious minds, stretch the imagination and provide opportunities for every child to discover their particular talents. We believe that education should take place in a fully inclusive environment with equal opportunities for all where children feel safe to try new things.
---
Subject Intents
Curriculum Subject Intent Statements
---
Implementation
Through clear strategic planning, our curriculum provides not only memorable experiences but is rich in opportunities from which the children can learn and develop transferrable skills. The acquisition of knowledge and the development of skills is carefully planned to create a purposeful and exciting 'Journey of Discovery' for every child with cross curricular links within the topics chosen. In order to ensure that progression and balance is maintained, the programmes of study are developed into medium term plans which clearly highlight the learning objectives and assessment opportunities. Weekly planning is then differentiated to the needs of each class, linking to prior learning, resourced and includes questioning prompts to promote challenge as well as to scaffold. Teachers plan and tailor units of work and lessons to address the specific individual needs of pupils so that all pupils are able to reach their full potential regardless of their starting point. Quality first teaching is provided to ensure that accelerated progress is promoted in each lesson. Our marking policy is implemented consistently as opportunities for children to reflect on their learning and think deeply and carefully about their feedback.
---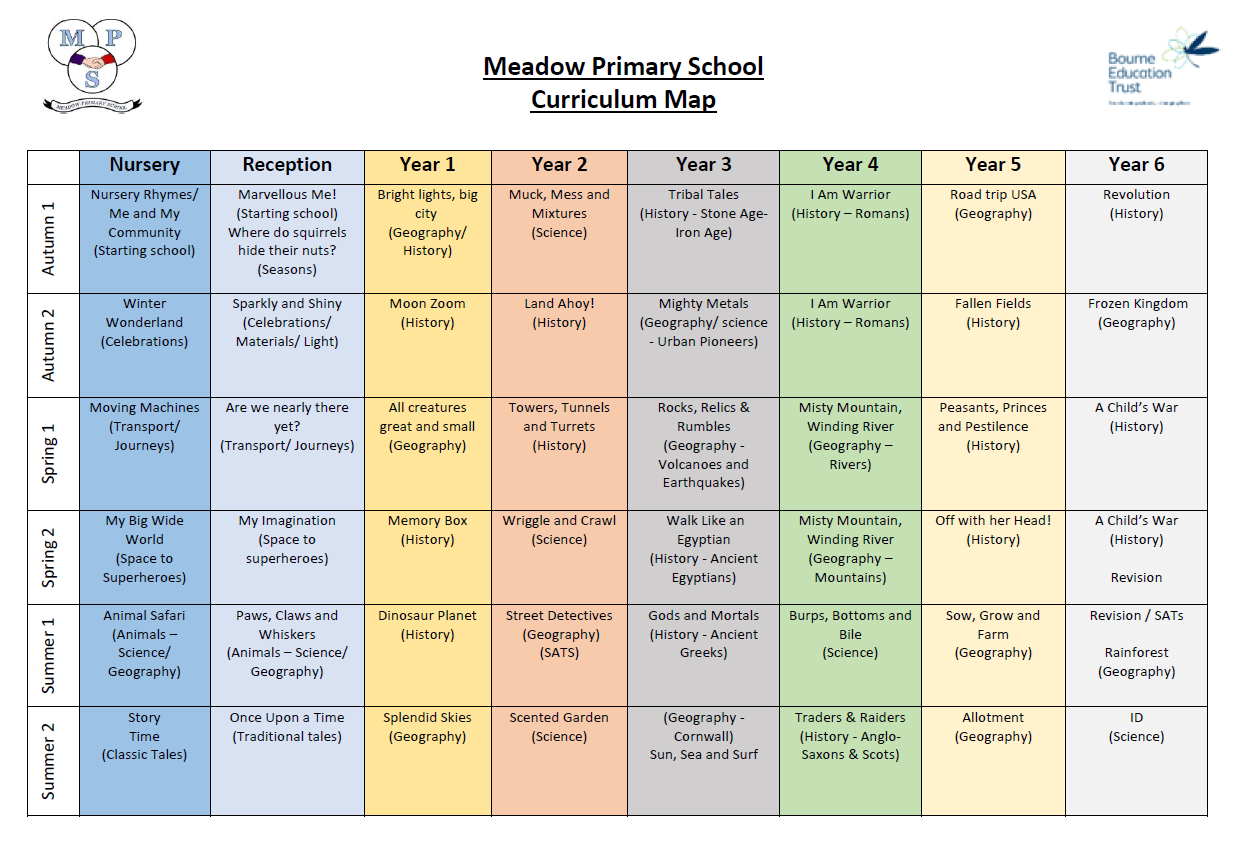 ---
Impact
Children will leave Meadow Primary School ready for the next stage in their learning at secondary school. The curriculum will have provided a range of knowledge and skills to support them in their future endeavours. The children will be able to work collaboratively with their peers and independently as inquisitive learners who are motivated to excel and who have a thirst for learning. The children will have a strong desire to embrace challenge and to be resilient learners. Our curriculum will also enable our pupils to become good citizens and demonstrate an appreciation for others. Our children will be respectful and will show tolerance and acceptance to those from different faiths and backgrounds.
---