Admissions Arrangements
Open Days Spring 2022
We look forward to opening our doors again and invite you to come and see our thriving school.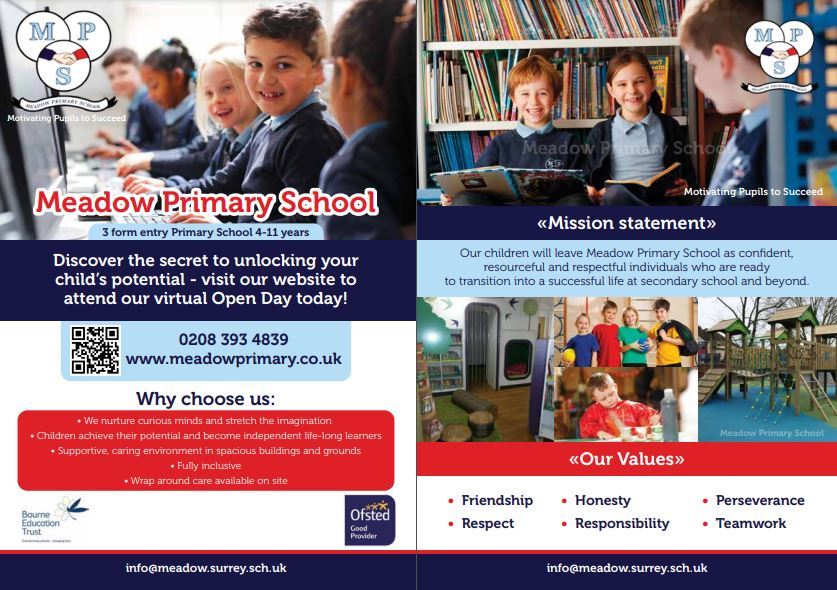 To book a school tour, please contact the school office on:
Our school tours will enable you to see across the school, from our well-equipped Reception Unit with its dedicated outdoor learning areas. You will have the opportunity to speak to a member of staff as well as some of the children in the school. You will also pass through our Key Stage 1 and 2 areas; seeing our extensive grounds, gardens and swimming pool.
In order to maintain appropriate social distancing, each tour will include no more than 6 families and will be for approximately 30 minutes. We politely request all visitors to wear a mask whilst inside the school building.
We look forward to seeing you soon.
---
*VIRTUAL TOUR IS ALSO AVAILABLE*
---
Starting primary, infant or junior school in September 2022:
If your child:
was born between 1 September 2017 and 31 August 2018 or
is leaving Year 2 of an infant school in July 2022
The closing date for on-time applications to Primary schools is 15th January 2022.
Surrey County Council will notify parents of their school place allocation on the evening of 19th April 2022. If you wish to appeal against a decision, please see our Admission Appeals timetable below and visit the Surrey Appeals Website for more information.
You must accept or decline the place by 4th May 2022.
For mid-term entry please contact Surrey Admissions. For further information please contact the school on 020 8393 4839 or email info@meadow.surrey.sch.uk.
All school applications are dealt with on behalf of the School by Surrey Admissions. Application forms should be returned to the local authority where you live, regardless of which schools you are applying for.
If you require any further information from Surrey Admissions please contact the parent line 0300 2001004.
Please click on the relevant link below for further information: